Canopies, Patio Covers and Retractable Awnings
Aluminum Canopies, Patio Covers and Retractable Awnings are a perfect solution to provide an outdoor area to enjoy without being exposed to the elements of harsh sun or inclement weather. Whether you're looking for a permanent structure solution or a retractable canopy, we can help you provide the ideal space you're looking for. Click on the projects you see for expanded views or contact us for more information or to schedule an on-site review with you.
Completed Patio Covers in St. Petersburg, Florida.
Click image to enlarge.
All awnings are fully loaded with features that you normally would pay thousands more for.
Every awning includes Dimmable LED lights integrated into the arms. Easily controlled with a touch of a button on your awning remote.
Each awning includes a right side mounted Tubular AC Motor with manual override, remote control, integrated housing, adjustable pitch and 16' power cord for extra convenience.
Affordable and great options include: manually operated drop front screen, giving you that extra shade to enjoy your backyard oasis even more.
Choose from a white, beige or bronze frame and the most popular and best performing fabrics in the industry by Sunbrella
A fully integrated half cassette fabric enclosure provides greater longevity of fabric. Our enclosure is like a garage for your awning, not a carport, and will not allow birds to nest, unlike competitors' add-on hoods.
Shoulder attachments are extruded aluminum for added strength and durability.
Double stainless steel high-quality aircraft cables prevent fabric sagging and create long-lasting performance.
Covered elbow joints protect moving parts from elements.
EZ Adjustable Pitch feature allows you to raise and lower the pitch of the awning from 0 to 40 degrees.

Call us or use the contact link on this site for an appointment to see how nicely this will work for your home

Miller Patio Cover Sarasota FL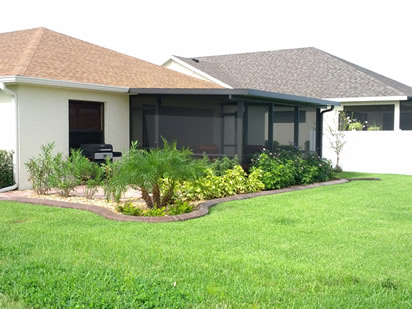 Examples of Canopies and Patio Covers. Click an image to see the enlarged version: