Canopies, Pergolas and Patio Covers
Residents in Sarasota FL, Bradenton, FL and the Florida Suncoast from St. Petersburg to Fort Myers now have the opportunity to have their own "smart" Adjustable Patio Cover. You control how much sun or shade you want to allow at the touch of a button. Tired of moving your barbeque grille or changing your barbeque plans because of the rain? You don't have to anymore. You can let the smoke out through the roof without the rain coming in.
Completed Patio Covers in St. Petersburg, Florida.
Click image to enlarge.
Adjustable Patio Covers - The "Smart" Shading System - Both a Patio Cover and a Pergola at the Same Time!
Made of all Aluminum materials and a Powder Coated paint system, the Adjustable Patio Cover is installed one time, and can be enjoyed for a lifetime.
See how you can increase the use of your Patio or outdoor living area by 75% by using the "smart" Adjustable Patio Cover!
Call us or use the contact link on this site for an appointment to see how nicely this will work for your home or Water Front Restaurant!

Miller Patio Cover Sarasota FL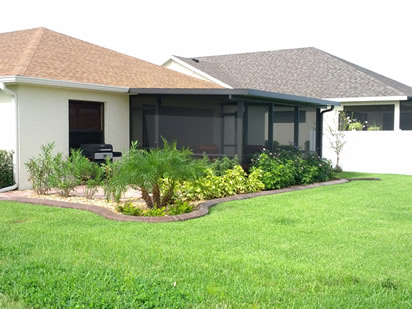 An alternative to the Adjustable Patio Cover is this Screen Room with a Elite Composite Roof which is solid, structural and Insulated. This also provides for internal conduits to have ceiling fans installed. This is a beautiful option for you to be able to relax and enjoy outdoor Florida without the bugs. We can provide a complete package including concrete or interlocking pavers for your floor choice.
Examples of Canopies, Pergolas and Patio Covers. Click an image to see the enlarged version: